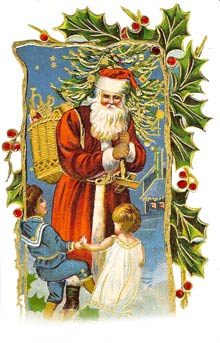 Ever thought about what Christmas was like in the "olden days"? Before the mania of shopping and commercialization of ... well... everything? When children were satisfied with a gift of a ball or a doll?
This Thursday Cheryl MacDonald will be presenting at Thursday Noon Hour Club on Christmas in Ontario: Legends, Tales & Traditions of Early Canada. The program begins at 12noon and cost is $1. This is the last of the Fall 2011 Noon Hour Club lineup.
If you can't make it to this program on Thursday, we have a number of books on the history of Christmas:
If you prefer a DVD, try Joyeux Noel, an account of the Christmas Eve truce between the British, French and German troops.
If you attend the program, or read / watch the suggested books and dvd, leave a comment below and let us know what you thought.